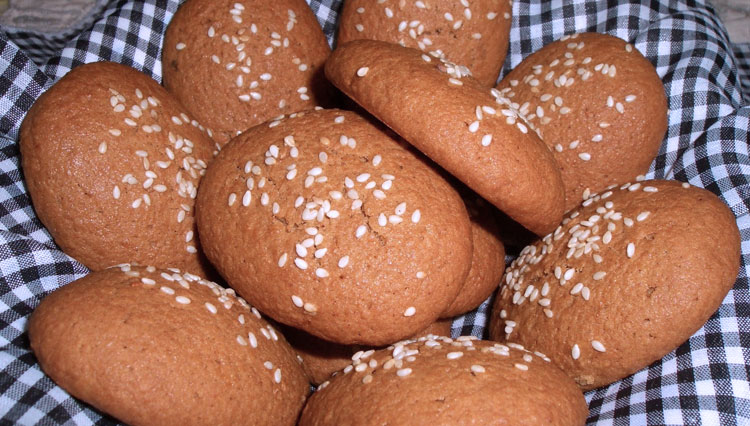 TIMESJATIM, JAKARTA – Gambang bread was popular in the 90s. The bread which was created by the Dutch in Indonesia has now become a rare dish.
There are only a few Gambang bread sellers, thus it becomes a rarity in Indonesia.
You can make one for yourself or sell it for extra money while also maintaining the traditional culinary in Indonesia.
Ingredients:
180 g brown sugar
300 g moderate protein flour
125 g bread crumbs
75 ml of water
50 g white sugar
2 tsp cinnamon powder
1 tsp baking soda
1½ tsp baking powder
1 chicken egg
50 g margarine
Sprinkles:
1 tbsp fried sesame
Boiled water for the spread
How to make Gambang Bread:
Boil and dissolve brown sugar with water, filter, and let sit.
Mix the flour, bread crumbs, white sugar, baking soda, baking powder, cinnamon powder, and egg.
Stir the mixture and pour the liquid brown sugar little by little until well-blended. Put the margarine into the mixture and stir.
Let sit the mixture for 20 minutes. Cover the mixture with a clean napkin. Divide the dough into several parts of 40 g.
Heat the oven. Shape the dough into squares or ellipses and put them on to the baking tray.
Spread water on the doughs and sprinkle some sesame.
Bake the bread for 30 minutes. Take out the bread and let it cool.
Enjoy the Gambang Bread with sweet tea or sweet coffee. To keep its hard texture, keep it in a jar or any other container with a tight cover. (*)
Baca Berita Peristiwa dan Politik terbaru di Indonesia dan luar negeri lainnya hanya di TIMES Indonesia.