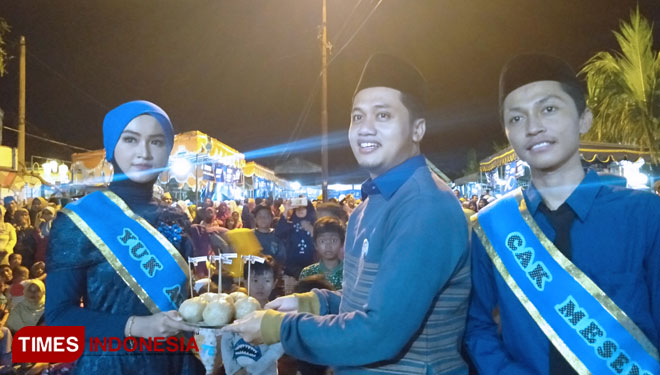 TIMESJATIM, GRESIK – Festival Enam Ribu Pentol or the 6000 snack ball festival was held in Gresik. The festival was held at the Alun-alun Ujungpangkah Gresik on the last Saturday (13/4/2019)
Pentol is an Indonesian snack made with a blend of all purpose flour and tapioca flour, ground toasted dried shrimp thinly sliced scallions, gratedgarlic, and season with salt, sugar, and ground white pepper.
The society gathered at the Alun-alun to taste the free pentol. They were so enthused by the festival.
"The pentol was made with different kind of taste and colors, I got this whole plate for free, I hope one day there will be another bigger festival like this," sulfiani, a visitor said.
Muhammad Kurdi the festival creator was so happy about the succesful of his Festival. He provided all the boot at the Festival for the pentol seller for free. Through the Festival Enam Ribu Pentol Gresik he was intending to make this traditional snack known by the world. (*)
Baca Berita Peristiwa dan Politik terbaru di Indonesia dan luar negeri lainnya hanya di TIMES Indonesia.