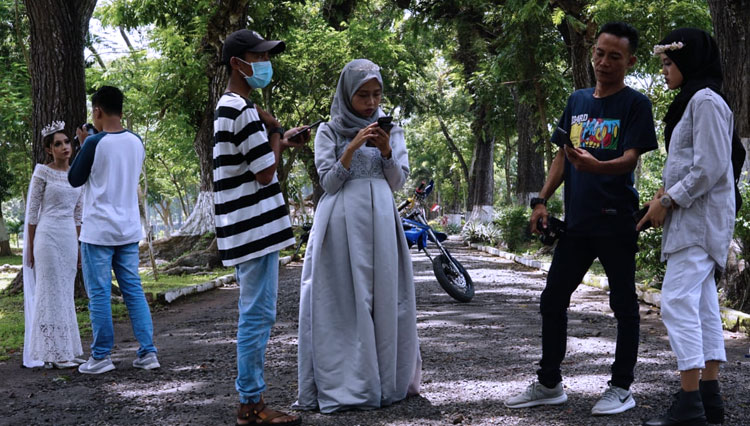 TIMESJATIM, JEMBER – Kampung Londo is located in Kencong sub-district, Jember, East Java. This tourism destination has a natural beauty that attracts several photographer communities to do some photoshoot in the location.
The photographer communities come from various districts, such as Puger, Gumukmas, and Umbulsari.
Some of them are from different cities, such as Lumajang and Banyuwangi.
In fact, Kampung Londo is always crowded with visitors, especially photographers. The number of visitors is the highest on Sundays.
Usually, the photographers have decided their photoshoot location. Even some of them have their own models.
Just like a professional model, the models chosen by the communities are well-dressed.
When they are ready, they will be posing with the gardens or paved roads as the background in Kampung Londo. Then, the photographers take their best snapshots using their cameras.
Sometimes, the models can pose with a motor trail.
One of the photographers from Puger, Ardian, said that he was impressed by the beautiful panorama in Kampung Londo.
"I knew this tourism destination from the photos in Facebook. That's why I decided to go here to hunt for some photos," said Ardian.
Kampung Londo does not only provide natural beauty, but it also provides some traditional games, such as Dakon, Egrang, and some art performances. Moreover, the visitors can learn about the history of some old buildings from colonial era built in 1925. (*)
Baca Berita Peristiwa dan Politik terbaru di Indonesia dan luar negeri lainnya hanya di TIMES Indonesia.